Written by Sharon Timms. Originally published 04-Oct-2018
With the greatest rainbow event in the north, Cairns Tropical Pride Festival, only a short while away, things are about to get glittery. While we brace ourselves for a flurry of feathers, a sea of sequins and an influx of shimmery selfies, the non-stop weekend of partying can be over faster than you can say 'nipple tassels and a spray tan'. So, to avoid it being over too quickly (no one likes that), the best strategy to have in place to keep the party rolling is a handy four-step Cairns Tropical Pride Recovery Plan in luxe Port Douglas.
Step 1: Get a little Beauty Rest
The parties were amazing, the eye candy was hot and you danced like there was no tomorrow. But now? Now you can barely move, let alone function or even string two sentences together. Solution? Poolside rancho relaxo in tropical Port Douglas. The award-winning Pink Flamingo Retreat is one of the long-standing favourites for a bit of shut-eye and recovery in the Tropical North. With a strict over 18s only policy, this gloriously unique and boutique resort promises a pool bar, outdoor baths, massages and snack hampers on request and a book and DVD library that goes well beyond Bette Davis and Martina's Wimbledon finals.
Located smack bang in the middle of Macrossan Street is the newly refurbished Saltwater Luxury Apartments. Lounging on the day beds on the glorious pool deck with a beverage in hand and tracing the lines of the weekend's glitter appliques, the ringing in the ears from parties long gone will be but a distant memory. Only a short stroll away from beaches, the Marina and all the best places to refuel, Saltwater Luxury apartments features spacious, elegant and contemporary holiday apartments decked out with everything a girl needs, making it the perfect spot to lounge about in luxury.
Step 2: Round 2… (with little umbrellas)
No doubt part of the recovery plan will include dipping the toe back into delicious cocktail waters, relax and maybe eat carbs for the first time in months. No need to keep chewing the fat about Paleo or discussing the benefits of HIIT (high intensity interval training) – you be on recovery time now, gurrrrrl. Italians certainly do it better at Sassi e Cuchina – pastas, antipasti, Negronis… and that's just the menu... Seafood more your scene? On The Inlet is a Port Douglas institution, and it's easy to understand why. Selections of locally sourced seafood including sashimi so exquisitely presented it could make a grown queen cry. Sundowners overlooking Dicksons Inlet are an absolute must, so pull up a daybed at Barbados Port Douglas, order your Tea For Two (spoiler alert: it's not tea) and watch the sun go down.
Step 3: Swap the Guest List for the World Heritage List
Recovery on the reef is a post-Cairns Tropical Pride tradition, mainly because it becomes blaringly obvious that the colours and textures of the Great Barrier Reef have clearly been the inspiration for Kylie's outfits all these years. Jump aboard Indigo to experience the best of the GBR with personalised service. A maximum of 12 guests (and no kids) makes this luxury catamaran sailing experience one not to be missed.
If you prefer a little rainforest over reef, Daintree Safaris offer 4WD day trips direct from Port Douglas north to the ancient Daintree Rainforest. Specialising in small groups, Daintree Safaris offer comfort (check), luxury (check) and secret beauty tips on how Mother Nature looks so good for 150 million years old (clearly teaching Cher everything she knew). The festival might be over, but the rainbow of greens are majestic AF providing much inspiration for next year's costumes, yes?
Step 4: A Little Something More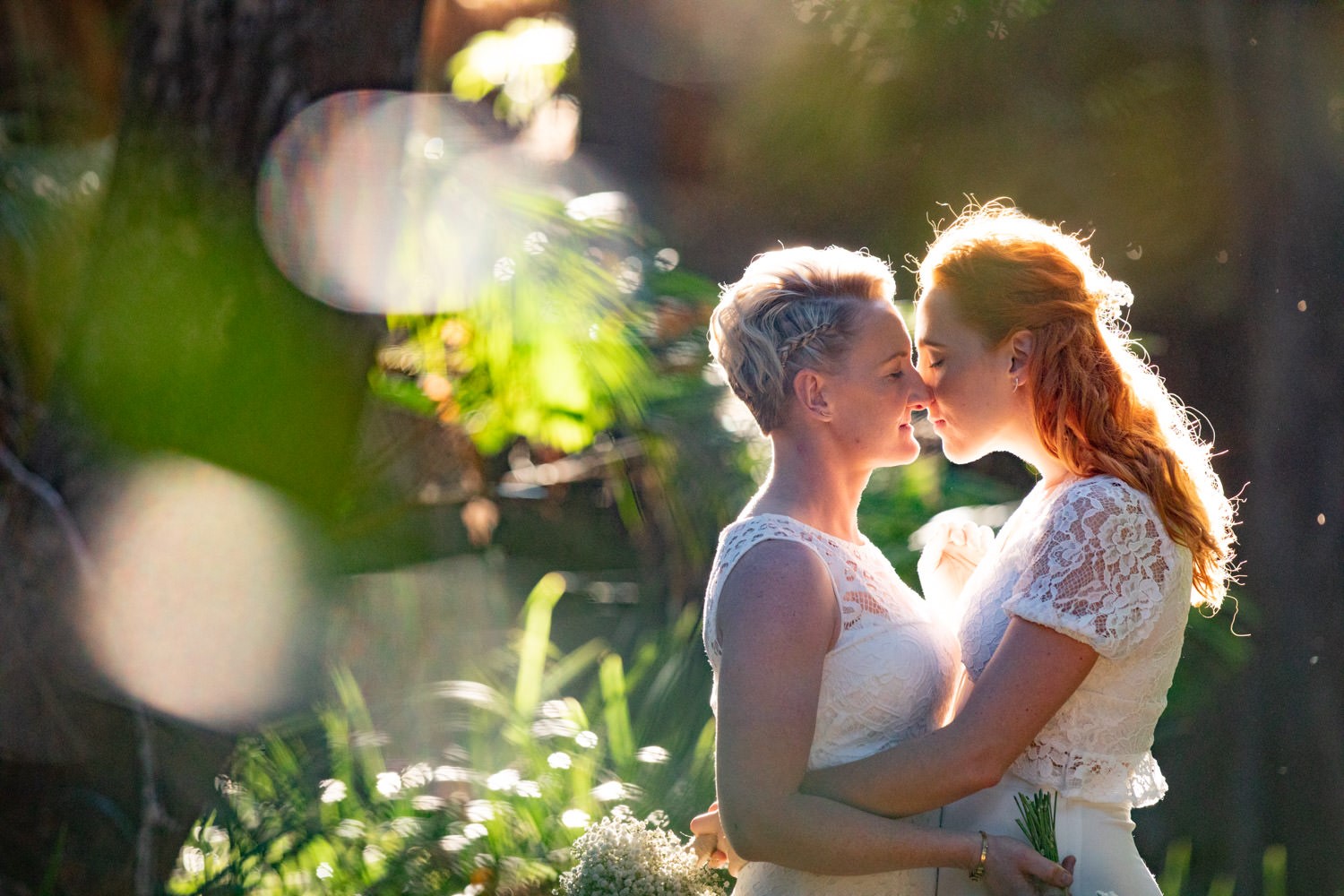 Image Credit: Catseye Productions
Same sex commitment ceremonies have been happening in Port Douglas for many years. Anyone who is in love with another person and in love with the tropics is welcome here, and now that marriage equality has been legalised (and boy, does it feel good writing that), why not seal the deal officially in paradise. With stunning venues such as St Mary's by the Sea Chapel, the Sugar Wharf, Rex Smeal Park, the iconic Four Mile Beach or a vast number of stunning luxury private homes with Executive Retreats, Port Douglas is the perfect spot to make a million memories. Port Douglas Wedding Professionals can help you out with a full list of who, how and where to show your love to each other and the world.
By now, you should be sufficiently recovered and ready to start primping and preening those feathers for the GrandKween of them all at the Sydney Gay & Lesbian Mardi Gras in February. Did someone say 'QUEENSland Recovery Round Two'?